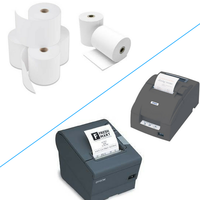 Are you at a complete loss for answers when it comes to your POS printer and it's paper rolls?
Author: POSPaper Date Posted: 24 June 2016
Are you not sure what size paper roll is right for your machine? Not sure what type of paper you need, thermal or bond paper? Confused about the sizing of the rolls, and how many to buy?
No need to worry, it's an incredibly common problem that we get heaps of calls about every single day! Understanding what sort of printer you have is the first step, then from there we can direct you to right the paper rolls and the quantity that would be best for your business.
Here's a few of our best suggestions, that will help you choose the right products:
1. Identify the type of Printer you need paper for:
Do you have a Thermal Printer, Impact Receipt Printer or a Label Printer?
Thermal Printers require no printer ribbon, but only use Thermal Paper Rolls for printing receipts.
Impact Receipt Printers require a printing ribbon to print, and use Bond Paper Rolls for printing.
Label Printers come in two models; Thermal Transfer and Direct Thermal and use Label Rolls.
2. Identify what type of paper it is:
Once you know what type of printer you have you can narrow down your choice of paper rolls remarkably. The paper rolls we stock are here:
Thermal Paper Rolls -Thermal paper rolls have a special coating that allows for inklessprinting. When heat (via thermal printer) is applied to the coating, the result is a sharp, clear image, without the need for ink or ribbons.
Bond Paper Rolls- Bond paper feels more like "normal" paper and requires an ink ribbon to print. Bond Paper Rolls come in 3 types: 1 ply, 2 ply and 3 ply, for duplicate receipt printing.
Label Rolls- Label Rolls come in two types, Thermal Permanent and Thermal Transfer rolls. Thermal Transfer label rolls require a ribbon, and Thermal Permanent rolls don't need a ribbon, as the image is applied through the heat of the printer.
3. Google it!
Now you know the type of printer you have, and the type of paper roll it needs you'll need to find the best size to suit it!
Google is the key! Nine times out of ten if you search your printer brand and model number Google will be able to pull up all relevant stats about your printer. If you're lucky there will be a branded owner's manual with the brand and model of your printer that is displayed.
It's then a matter of finding the 'Printer specifications' and there will be a section with 'Paper Dimensions' (mm) and you'll see two numbers, E.g. 80mm x 80mm
To find a printer's brand and model try to use this format: Epson TM-T82II paper size?
4. Measure it!
If you strike out on Google, the next best option would be to use a ruler to measure the width of the paper, then measure the outside diameter. If you have an old roll measuring it would be a great help to us, because then we can narrow down our sizes for you.
Still not sure? No problem. Contact us or give us a call and we'll be more happy to help you choose the right paper roll for your printer!
---
Leave a comment